A new WatuPRO feature from version 5.7.6 allows you to create flashcard questions.
What is it?
In essence flashcard questions are multiple-choice questions presented as flashcards. Each flashcard has two sides that are supposed to match. But since this is a quiz you will probably want to make some wrong flashcards so the quiz taker should show which are correct and which are wrong. If a flashcard's back side correctly matches the front side, the respondent should leave the card flipped on the back side. If the match is not correct, the respondent should click again to unflip the flashcard.
You can see an example of such quiz at the end of this post.
How to set it up?
Flashcards are just multiple-choices questions where each answer is a flashcard – either correct or a wrong one. So you first need to create a multiple choices question:

Then select that the question will use flashcards:

Note that you can't use the checkbox groups feature together with flashcards so one of the options will always be automatically unchecked.
Then for each answer of the question you enter the two sides of the flashcard, separated by = (obviously the front or back cannot contain = sign). Here's an example of a question that matches countries to cities: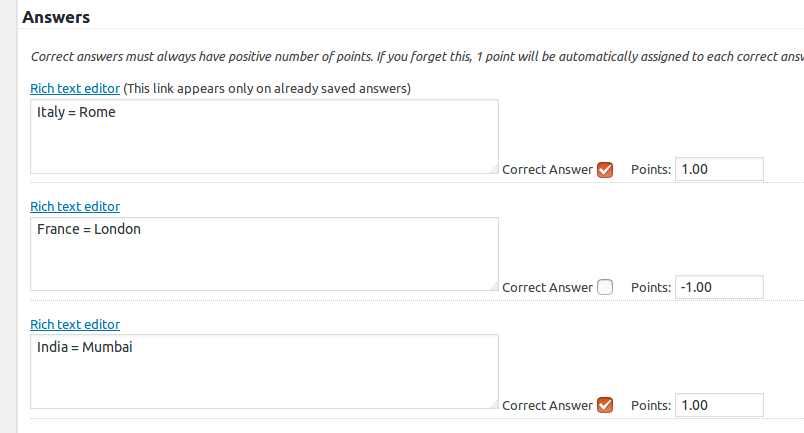 Some flashcards match correctly while others do not. This is exactly the same logic of the usual "Multiple-choices / checkbox" questions.
An Example
Here's an example quiz to see how this works: