This short visual guide will clarify the common misconceptions about using "category grades" in WatuPRO.
Here is the procedure step-by-step:
1. Make sure you have question categories.
Category grades make sense only if you have categorized the questions in your test. Typically you will have at least two question categories.
2. Create your grades.
Go to the Grades page for the exam and select the desired question category you want to create grades for. The page will reload and then you can create and manage the grades for the category.

The category grades look just like the "whole exam" grades. If you use points and not % good answer don't forget to consider only the possible sum of points within the category, not the total points of the whole exam.
Under the drop-down selector there is a link "Design the common category grade output for this quiz". Click on it to open a box like the one shown below: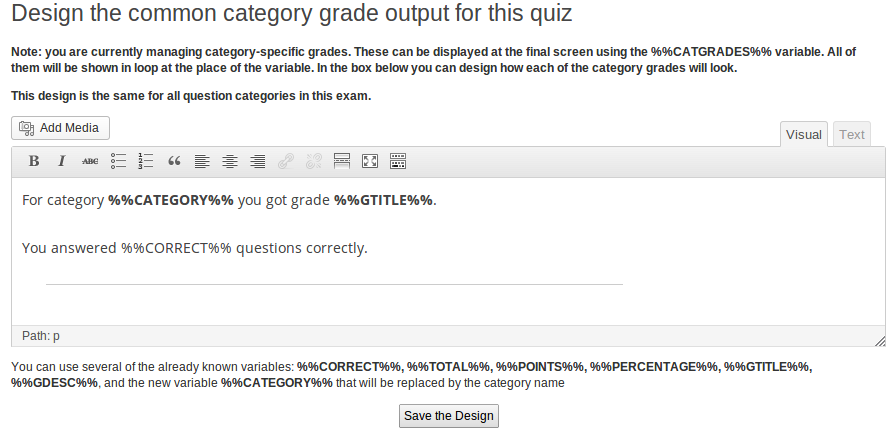 Note the variables listed below. Some of them are the same as on the "Final screen", but not all.
This whole design will be repeated once for each category when you use the %%CATGRADES%% variable on the "Final screen".
3. Display category grades on the Final screen.
You simply need to include the %%CATGRADES%% variable as shown below:
The variable will be populated with the output you designed in step 2, and it will be repeated once for each question category used in the quiz.
Here is how the output would look like: