This is a free add-on which implements long requested functionality for WatuPRO: The ability to add "chained" logic to quizzes. So depending on the user's answer on a question you choose the next question or finalize the quiz.
Download here: wchained-logic
Current version: 2.2
Requires: WatuPRO 4.4.9 or newer
How Does It Work?
Once installed and activated, the add-on will enable a new menu item called "Chained Logic" under your WatuPRO menu. Click on it and you'll be taken to a page where you can set up chained logic for a given quiz, and a shortcode to publish its chained logic version.
The chained quiz will work only with the new shortcode. The old shortcode will keep working with the standard behavior.
Here is a screenshot how you can set chained logic in your quiz: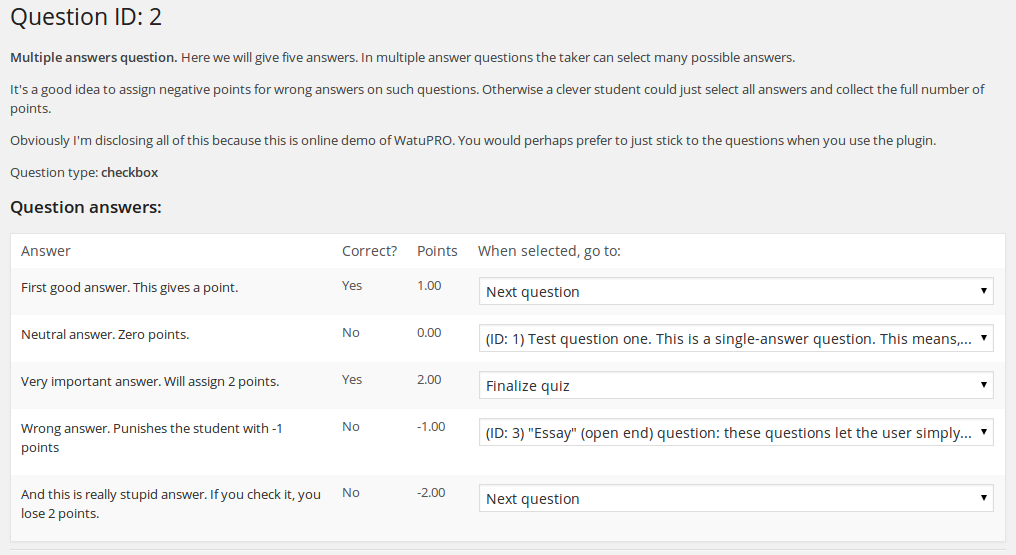 Specifics and Limitations:
The quiz pagination will be automatically set up to "One question per page"
Back buttons, "save" button, numbered paginators, "show answer", and "Question X from Y" text will not be shown.
Grouping and randomizing questions settings will be disregarded – the questions will start appearing by the order you have given in the "Manage questions" page.
This will work for "live quizzes" (no "practice mode")
Only single-answer, multiple-answer and "open-end" questions can be chained. The other question types will be excluded.
Chained quizzes partially-submitted state cannot be saved so "automatically store user progress as they go from page to page" will not work.
You can't ask for contact details at the end of the quiz. This feature currently does not work. You can however ask at the beginning of the quiz.
Integration with the free Chained Quiz Plugin
From version 1.1 you can transfer the quizzes made with the free Chained Quiz plugin into WatuPRO quizzes. The chained logic will be automatically transferred as well.