Note: From version 4.4.3 to version 4.4.4.5 there is a small bug in the Advanced Settings page (Intelligence module). When you save the advanced settings it will remove the contact info feature settings. If you are running any of these versions please let us know to send you update. Update will anyway be sent to everyone when we release version 4.5 so there is nothing to hurry about unless you use the Advanced Settings page and have a version between 4.4.3 and 4.4.4.5.
From version 4.4.3 the quiz plugin WatuPRO has an easier way to collect the following information from every quiz taker:
User email
Name
Company name
Phone
The best thing is that you can easily set this to happen before or after taking the quiz. Here is how the new setting looks in the Add / Edit Quiz page under "User and Email Related Settings":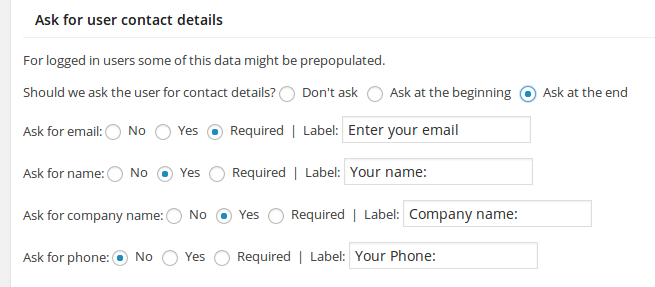 That's it. The software will figure out how to display this depending on your quiz settings.
And more, for logged in users it will automatically prepopulate email and name. This is what you call easy.
Thus collected information will be visible to you in the quiz results page.
Moreover, if you have selected to email the user their results, the quiz will use the information from these fields and no longer open "Enter email" field on top of the page. (The field will still appear if you don't select "Ask for email" but select "Email user their results"). So every possible situation is covered.
Other and older (more complicated) methods:
The older methods of obtaining user contact information still exist and you can still use them:
Request contact information with open-end "survey" type questions
Request user and email with your own tags like explained here.
While both methods will keep working, we strongly recommend you to start using the new option. It is really much simpler for you.