Note: If you have purchased WatuPRO less than one year before the time when you want an upgrade, you are eligible to get it for free. Otherwise the price of the upgrade is 40% of the full price.
If your current plugin version is 4.2.2 or newer the only thing you need to do is to deactivate and delete the old plugin, and install the new version. All your data will remain in place.
FTP users can upgrade the plugin by simply replacing the files through FTP.
The below information is OBSOLETE and valid only if your plugin version is older than 4.2.2.
Here is how to process the upgrade without losing your exam data:
0. (Optional) If you have large or sensitive data please do backup your database first. This is always a good idea when upgrading plugins.
1. In your WordPress admin go to Settings, then to Watu PRO Settings. Make sure the checkbox saying "Delete Watu PRO data when uninstalling the plugin." is NOT checked. See on the picture: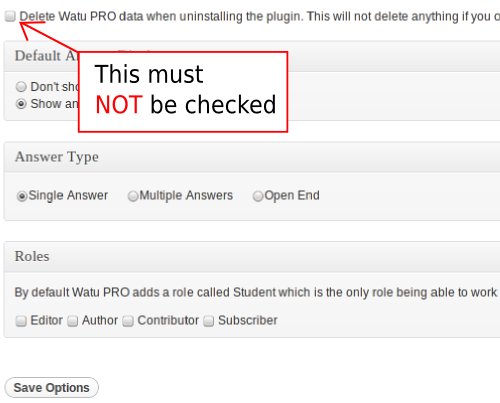 2. Deactivate the plugin.
3. Delete the plugin. WordPress will say "Will also delete its data". Ignore this text, data will not be lost.
4. Upload the new zip file via Plugins -> Add New -> Upload
5. All done. Your exam and taking data is all there and old exams will keep working as is.