Our WatuPRO Bridge for WooCommerce is used a lot so we decided to build a similar one for Namaste! LMS.
Once downloaded, install and activate it. Then here is how to use it:
First, you need to create paid courses and/or classes (if you have Namaste! PRO). Then add them as products in your Woocommerce store. Name them any way you want, give any price you want.  The price you set in Woocommerce does not need to match the price you set in Namaste! LMS. he only important thing is to create a custom attribute with name "namaste-course" and value containing the ID of the course you want to sell, or "namaste-class" and the ID of the class you want to sell. Example: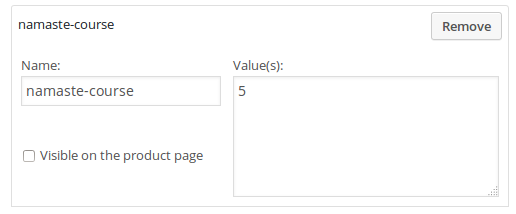 Note! Do not create these attributes as custom attribute type from the separate Woocommerce Attributes menu. It needs to be done like on the image above -just enter "namaste-course" or "namaste-class" (without the quotes) in the small box and the ID in the big box. The drop-down at right should be saying "Custom product attribute".
That's all, you can start selling access to courses and classes. You can add coupons, bundles, and so on -anything that you would do with your Woocommerce products.
When the payment of order is completed, the access to the course or class will be activated. Access to course will not be given until the order status is COMPLETED. If the user is not logged in and does not exist, an user account will be created on the fly.
Redirect to the Course
The bridge supports automated redirecting after the order is paid. Just add another custom attribute to the same product. The attribute must have name namaste-redirect and value the URL of the course. You can also use any other URL if for some reason you want to redirect elsewhere.
If the user purchase multiple courses or classes in one shopping cart they will be redirected to the first purchased product which has the "namaste-redirect" attribute.