Note: requires WatuPRO 4.4.8 or newer version.
This add-on lets you publish a form where user will select the questions from a quiz themselves. There are two modes of selecting: the user may be allowed to choose the exact questions to work on, or they can choose number of questions from each category. You can specify the maximum and minimum of total questions that the user can choose: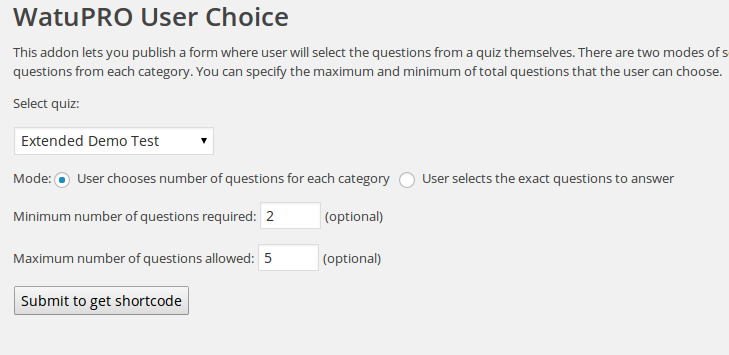 See example of how the selection from the screenshot works: click here
You can also let the user select the exact questions.
Note that quizzes published only this way (and not through the standard WatuPRO shortcode) will not automatically be clickable in your dashboard neither will show in "My Quizzes" page of students. To fix this you need to use the "This quiz is published in custom field or other non-standard way" option on the Edit Quiz page and enter the URL of the post where the user-choice version is published.